Easily create high quality parts catalogs with hotspot and warehouse data link support
The design and production of an asset starts with engineering information in the form of drawings, list of materials and supporting technical information.  As soon as the design is approved, technical writers, illustrators and engineers need to collaborate to produce intelligent parts information that is supported by in depth operating and servicing information.
Absolute Data Group's R4i IPD Manager automates the process of parts data creation, speeding time to market and eliminating human error from the production cycle.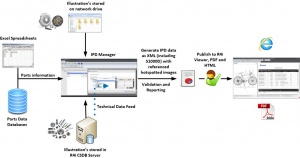 IPD Workflow diagram
R4i IPD Manager is typically used by connecting directly with an Engineering source (SQL Database) however, input can come from a variety of sources, including MS Excel Spreadsheets, CSV Files, or XML content.
IPD Data Mapping Wizard image
The R4i IPD Manager is bundled with powerful features including automatic generation of hotspot links, and referencing of the hotspotted images, through to automatic completion of data fields based on pre-set information.
View your Parts Data
End users can then use the R4i Viewer® to access the Parts content on-line.
Browse from any Windows based PC or Device using R4i Viewer to your single R4i CSDB store for all content, or publish the content to work offline in the same Viewer.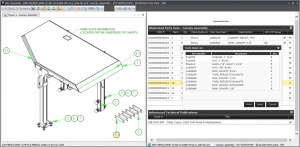 IPD Parts Catalog Ordering diagram
Find out more
For detailed benefits of utilizing R4i IPD Manager, click here to view our R4i IPD Manager Brochure or contact us for a demonstration.
See R4i IPD Manager in action here – Fast Snapshot Series Recording.